The new face of Urban Prime 1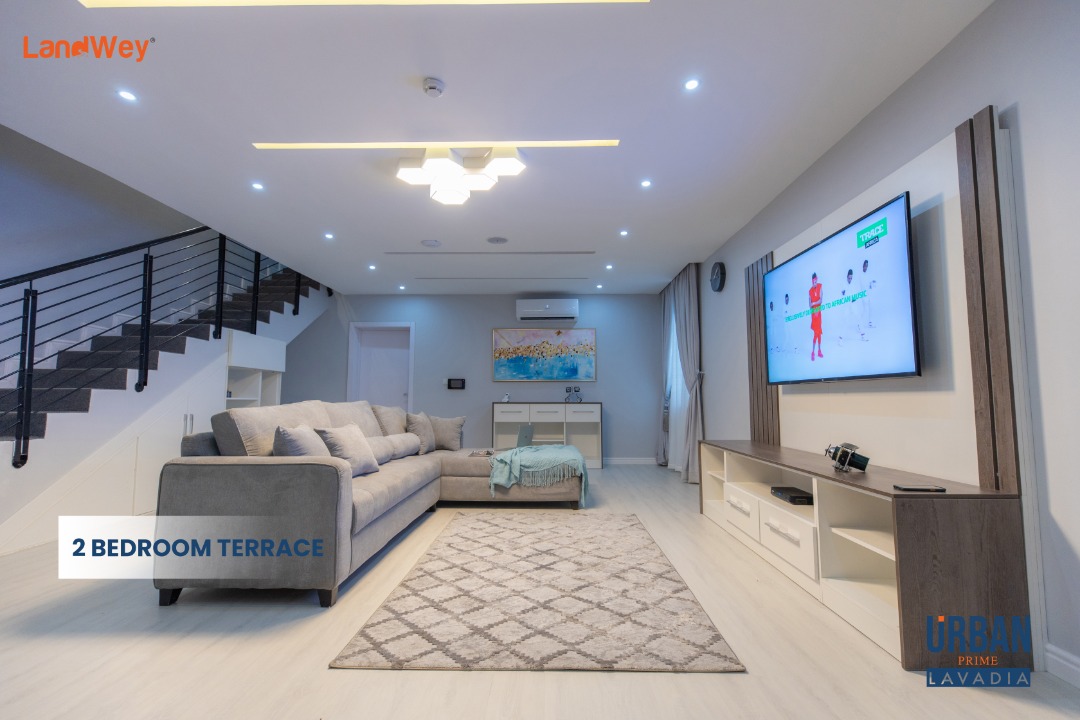 It's truly amazing to say that even while we're just in the beginning stages of the ease of the lockdown in Lagos state, a certain real estate development has early showed no signs of slowing down in terms of infrastructure setup and building construction. Urban Prime 1, a development launched into the real estate market late last year is looking almost pluck-worthy ripe, as recent visits to this estate development are highly intriguing to any real estate investor.
Situated on Ogombo road, off Abraham Adesanya Roundabout, development is coming on swiftly at an unprecedented rate on this development as site visits and tours clearly show that it's gym facility is well under way in set up, just by the ground floor of its lobby/clubhouse space. Boasting of the most practical and gym worthy equipments, all inhabitants of this estate are guaranteed to be in fine shape and maintain a good balance of physical health and workout convenience.
Taking a bird's eye view of the entire estate, the fast paced construction and development can be readily seen, as buildings nearing completion have sprung up in nearly every nook and cranny of the estate. Site workers effecting site process es while observing social distancing, safety and anti-hazard processes march like bees to honey, tackling the task at hand, which is to deliver homes and buildings on Urban Prime 1 in record time.
Well erected and nicely finished views of terraces, apartment a and semi detached buildings adorn the main entrance walkway of the estate as wella s on the corners of the estate layout, with its major road undergoing continuous construction and making for ease of drive around and delivery trucks offloading materials on site.
A quick tour for instance to the 2 bedroom terrace located just by the right of the estate as soon as you walk past its gym facility is sure to leave you feeling dreamy. Neatly interlocked exterior flooring usher you into this spacious, smart savvy 2 bedroom terrace.
The 2 bedroom terrace has a relatively sprawling space feel, with stunning floorwork finishes and shining resplendent walls carefully layered POP and floor to high ceilings adorning the entire living room and family area. Onwards to the left is the outdoor exit into the ancillary quarters for staff, and then to your right is the humongous cookspace of a kitchen, delighting your family and guests to delicious meal prep and stories to lounge with while inhaling the aromatic freshness that home brings.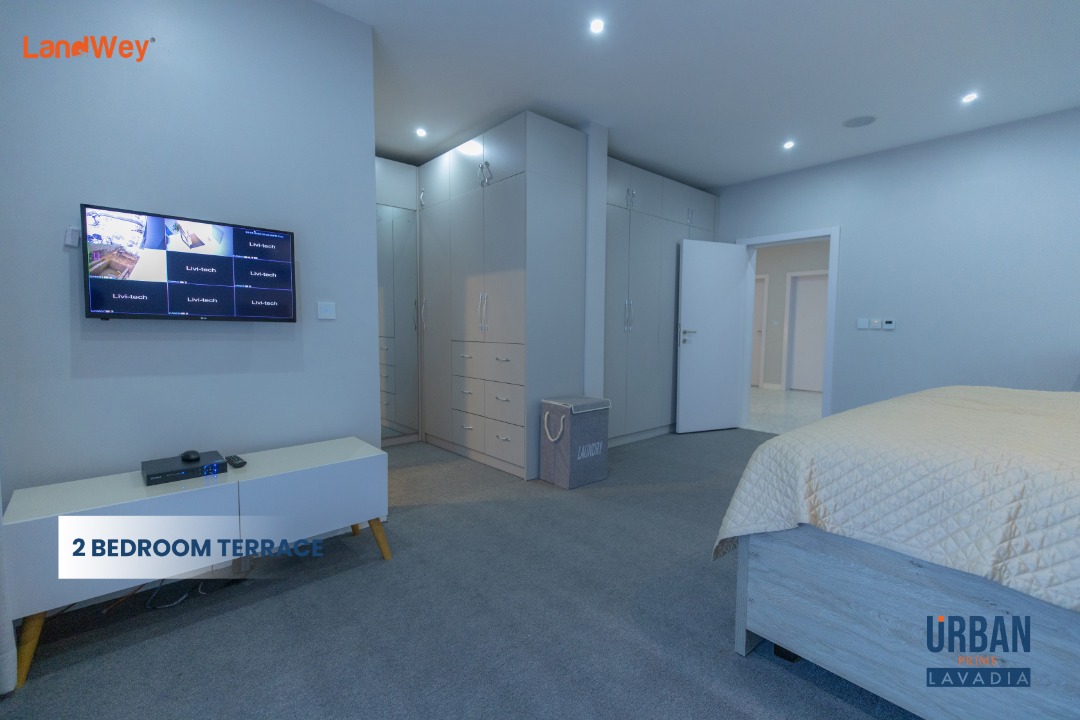 As you make your way back you sight the guest washroom nicely tucked in in the corner for your guests and then you head on upstairs to an even more impressive family room, that will delight your family in game night, movie screenings and refreshing conversations. This area also features the master bedroom with unusually large windows, infinitely spacious master closet, the beautiful mosaic of a bathroom with his/hers sinks, a stand-in shower as well as spaces offering more exclusivity. The master bedroom also boasts of uniques outdoor views to serenade you to bright sunny mornings and starry nights.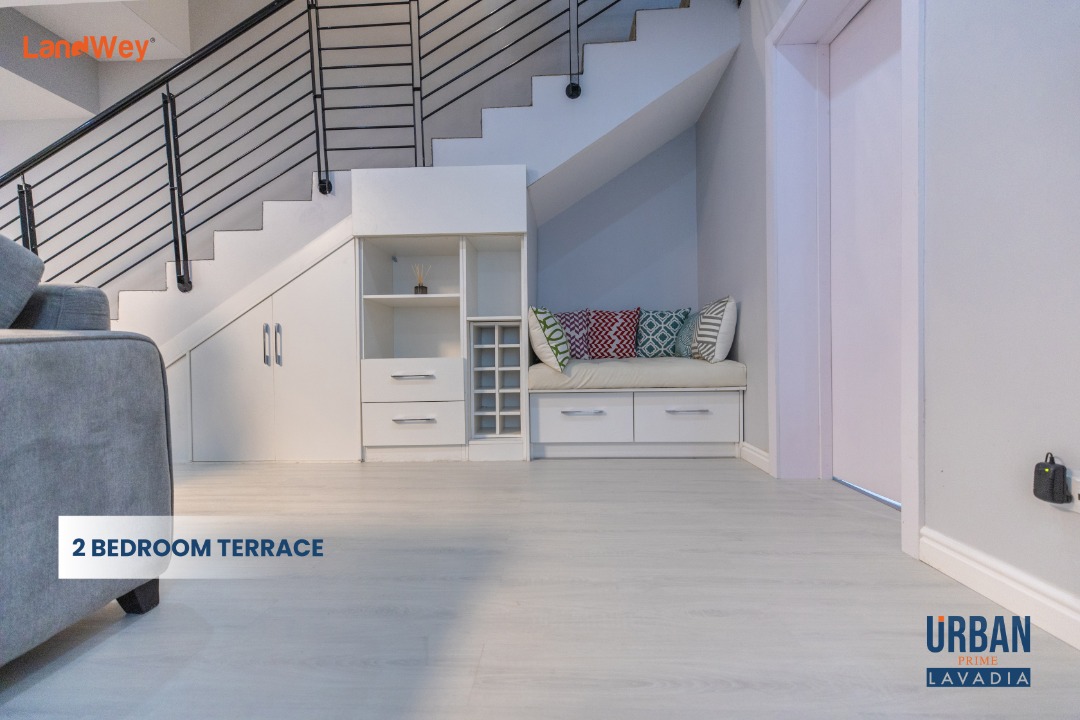 And then we head on the the 2nd bedroom featuring unusually large windows, comfy bed and beddings with an artwork for a bed head, an immensely large closet for clothing and accessory needs, a bathroom adorned with the finest of marble and tiles, and a sectional small seating area.
On your way downstairs you find the eye candy of the house: the terrace views that are beyond breathtaking, and highly cinematic, as well as the box room for extra storage.
This 2 bedroom terrace on Urban Prime 1 is the perfect rejuvenating home for your and your compact family. Newly weds, you're sure to find a home that keeps you falling in love right here. Gorgeous scenery, the finest of finishes and fixtures, every detail masterfully crafted and painted, the 2 bedroom terrace opens up to you tasteful modern living with the perfect hint of classic signage and beauty.
Now this is just a tiny spectre in the grand scheme of things happening at Urban Prime 1. I know like me you're itching to see all of it. Maybe an open house soon? 🤭.Details in a bit.
In the meantime, see it all here virtually on: virtual.landweyinvestment.com, and to talk shop about getting yourself a verified, profitable real estate investment in the Urban Prime schemes( Urban Prime 2 and 3 still selling), please call/WhatsApp: +234 818 746 6666.