Who Took our Fish Landmark?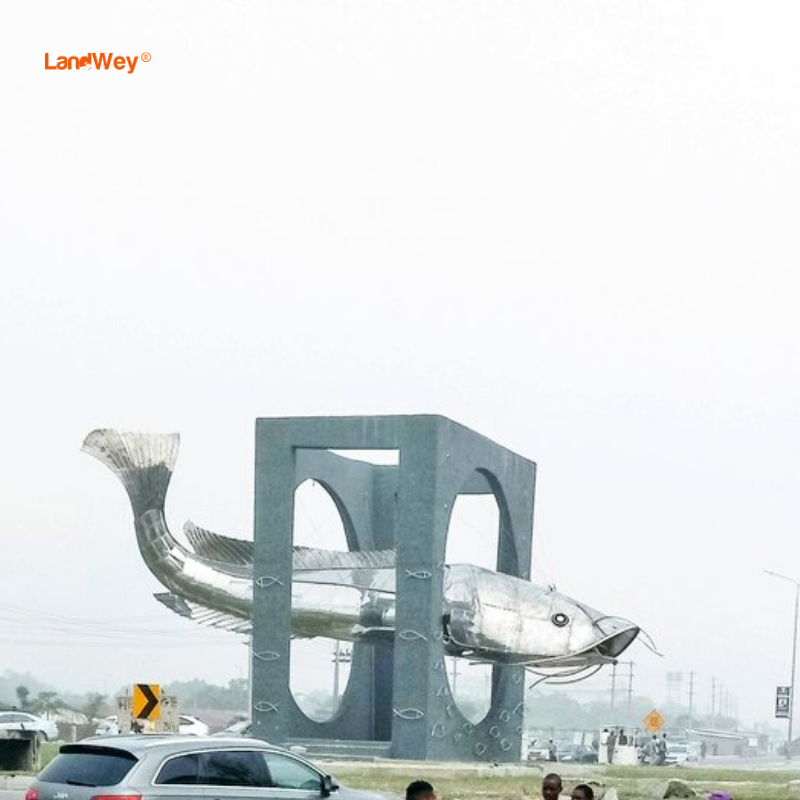 Headed on past Jubilee Bridge Ajah, Lagos, I drove absentmindedly. My destination was clear (Lagos Business School), but it was supposed to be made even clearer by the unmissable landmark that I knew, that once I saw, I was close. 30 minutes later I was still driving, and it suddenly dawned on me: "Ha, I've been driving for over 30 minutes oh, I still haven't seen the big fish at Abraham Adesanya". I looked closer around my environs only to discover I had gone way past Awoyaya. I felt like screaming.
Where's the big fish!!!
To the utter surprise and disappointment of some residents and visitors who frequent the Ajah-Sangotedo axis, our dearly beloved fish landmark which was one of the most popular landmarks and signages was dismantled days ago. I wonder what has become of it, and how its recycling was handled (Is recycling even like a serious big deal right now in Naija). Pictures flooded social media of the New roundabout look for Abraham Adesanya, with only a boxy, squarish shape seated there now. I can tell many liked the fish better. It caught the eye, gave you something intriguing to look at, it was unusual, and how many of us suddenly had an instant craving for fish, upon sighting the big fish? Lol, I know I for one did.
But why was the fish removed in the first place? The question of many lips.
It has been alleged that it's mostly in a bid to get rid of the roundabout, which makes that route more traffic and congestion prone.
But a lesson in all of this is you never know how much something means until it's gone. Does Abraham Adesanya roundabout look the same or feel like it to you? I guess it won't for a long time. What's Sangotedo without the Novare Mall as a Landmark? What's Ikoyi without the Lekki-Ikoyi Link Bridge? What's VI without the Civic Center edifice? Or Ikeja without the Awolowo statue? As much as we sometimes like to diss our own and say: oh, we don't have much going for us in terms of historical or noteworthy placement of landmarks for references, yet we see how intrinsic and essential the ones we currently have are. Hence, no wonder when investing in real estate, a great way to go for the kill is if your real estate offering is located close to popular landmarks that anyone can easily relate with especially if its within areas that development currently is in or headed to.
The Abraham Adesanya axis now wears a new look and it looks like it is here to stay. Hopefully we can begin to see post-fish dismantling moves towards the actualization of traffic congestion in this axis, as this neck of the woods is fast blowing up. However, one of the most noteworthy significant things in the Abraham Adesanya axis is the fact that 2 new estate developments just came up as a sequel to the already existing Urban Prime One.
Urban Prime One sits on relatively wide expanse of land on the left just after the Maternal and child hospital, and then right opposite it is newly launched Urban Prime 2 estate, that's 2 times bigger than the size of Urban Prime one, and then a little down that same road on Ogombo is Urban Prime 3, with ready to build plots available. All 3-estate developments carry authentic, genuine titles as well as incredible returns on investment. And what could be better than securing a home where just right down the road are some of Lagos finest beaches? Talk about a real beach-side living.
Don't blow up your funds and be stuck wondering where it all went like our fish. Don't let a great real estate investment opportunity pass you by, don't wait till it's gone like the big fish!
For more information, check out our IG page: @landweyinvestment, or call/WhatsApp: 08186554455
PS: A little bird told me that the big fish landmark was moved to the Maternal and Child hospital, and is currently sitting there, looking sad, lost, and forlorn. I cannot categorically confirm or deny this report at this time.