Your Car Park Fee enough to buy you a home???
Home shoppers may have been excited when they saw a $100,000 listing price in San Francisco appear. But upon closer inspection, they then realized it was not for a home—it was for a parking spot.
That's just like finding a 36,350,000 naira listing in Ikoyi, and you jumped for joy, rushed with bated breath to check out the listing, already paying in your head once everything checks out, only to find it's for a parking lot. Haha. Just like my colleague today who saw a BMW car series 5 2004 model for ₦250,000, on some Nigerian car listing service that I won't mention. Lol. You should have seen his jump and excitement, and disbelief, all set in at the same time. I 'kukuma' just sat at my desk, watching him, shaking my head, saying in my mind: "This one doesn't know what hit him".
That $100,000 parking spot is the most affordable piece of real estate currently available in San Francisco. To some, it may be viewed as a deal, considering that a one-bedroom, one-bathroom, 644-square-foot condo in the city is currently listed for $849,000, according to SFGate.
The listing for the parking spot—number 140, to be exact—is in a condominium complex located in a prime San Francisco neighborhood, one block from Oracle Park. The parking spot is being listed by Bill Williams, a real estate professional with Compass. He's pitching it as an investment.
"When you buy any asset and you have it, it's not like you spent the money. You can turn around and sell it again," Williams told SFGate. "You could leave [$100,000] in your bank account and you might see the same return, but you wouldn't have a parking spot."
Pricey parking spots are nothing new in big cities. In 2015, parking spots in Manhattan hit the market for a $1 million asking price.
Looking at this, our real estate investment in our neck of the woods pale into insignificance, right? I mean, a 100k dollars for a parking spot? Remind me again why we here in Nigeria say that real estate investment is capital intensive. Lol. But I kid. I get the difference in infrastructure, systems that work, income earnings and the like…
But really, imagine that car parking fees or spot could buy you an actual house where you, your car, your family and even your grandma can park. No, live. The news stories we hear from around the world, even in the real estate sphere sometimes sounds comical to our ears sometimes. At least, just be thankful that you don't require that much to start off a real estate investment here in Nigeria. A 3 Bedroom Semi-Detached apartment on Nooks, Westwood Park Estate, Sangotedo, Lagos with a Certificate of Occupancy as its title goes for ₦35,500,000.00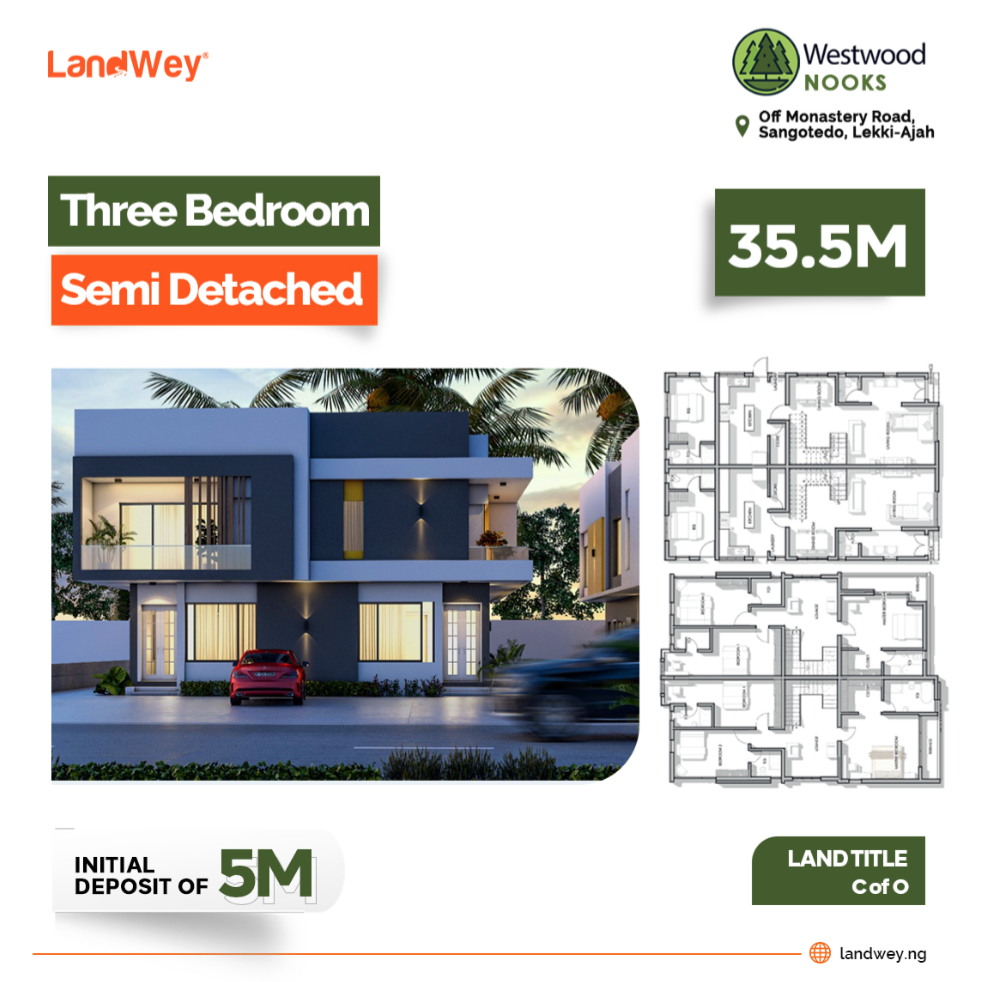 But really, there's a take home lesson here, really. There's so much that you're currently spending on, that if you stopped, sit back, and do the math, you'd realize that, oh wow, when added up together, I could have invested in a home. So, could it be your constant Friday night shenanigans with your homies? Could it be that talk of the town wedding that you had or are planning to have, that would become an obsolete forgotten-in-the-town wedding in 48 hours or less? Could it be flashy, sleek cars that have depreciation as its middle name? Wouldn't you rather have a safe, secure investment that appreciates? The trick is in taking stock of your current financial earning and spending habits.
So, would you rather a nicely set up home, in a serene estate environment with the very best of infrastructure, or would you a parking slot? To get started today with owning a befitting home for you and your loved ones, get talking with us today on: 08187566666
Source: magazine.realtor